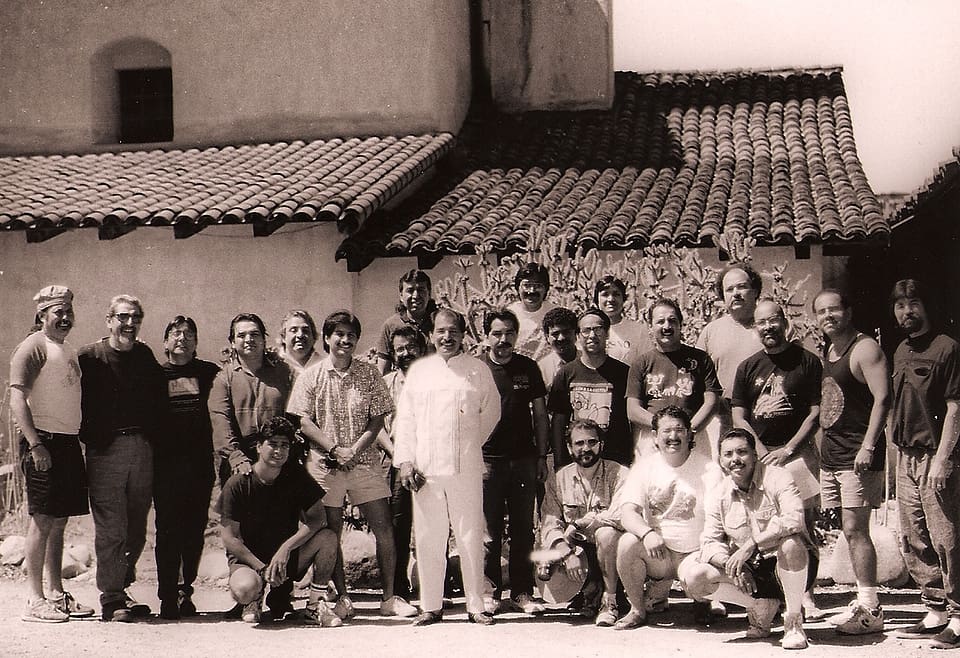 Recapturing and Reclaiming our True Spirit
El Circulo, Circulo de Hombres. Men's Retreats
In November of 1988, Ricardo Carrillo and Jerry Tello gathered a group of Chicano. Latino. Native and Raza men for three days in Jolon, California in a Circulo de Amistad y Hermanidad (Circle of Friendship and Brotherhood). The men gathered with the initial intent of addressing the many issues that faced themselves, their families and communities but also with the intent of clarifying their roles and responsibilities as men and to individually and collectively search for a way to rebalance the harmful experiences they sometimes brought to themselves, the women in their lives, the children, families and communities. Through discussion, laughter, ceremony and reflection, generations of feelings and spiritual energy were exchanged. The men present realized that the first step towards healing their relations, families and communities started with them making a commitment to heal themselves and to commit to the journey of living as Hombres Nobles (Honorable Men)*.
These men reignited that ceremonial fire that has warmed and re-rooted thousands of men who have come together yearly since that initial gathering.
Over two thousand men; grandfathers, fathers, sons and grandsons have attended the yearly Hombres Retiros in Jolon, and from this commitment came the "Circulos de Hombres" (Men's Circle Network) movement. Many participants from these gatherings have taken the teachings from the Círculos to their own communities across the country. Presently, círculos exist in over 50-cities across the nation and reach thousands of men and boys in a manner that allows them to nurture their positive purpose through connecting with other men and boys in their home towns.
The National Compadres Network (NCN) as a 501 c-3
Several founding " Circulo" members launched the National Compadres Network as a formal not-for-profit organization (501c3). NCN now serves as a vehicle to promote the lessons learned from gatherings and círculos, and to support and assist interested communities and organizations in filling an enormous gap in culturally competent services to men, women, youth, their families and communities of color as a whole. NCN also sponsors conferences at the local and national level, and promotes national campaigns to address a multitude of issues. Finally, NCN works with recognized leaders in many social service fields who provide on-going consultation and technical assistance at the local and national level. These experts train service providers in a number of culturally centered curriculums addressing a variety of issues including; family violence, gang violence, teen pregnancy prevention, teen fatherhood, Indigenous, Chicano,Latino Male Youth Rites of Passage, fatherhood literacy, fatherhood parenting and others.
Comadres Network: Women and Girls
NCN since its inception has worked collaboratively with women's organizations and has co-founded organizations that addressed issues that faced girls and women. NCN has worked with organizations that address family violence, reproductive health, gender equity, women's rites of passage to raise awareness and move effective strategies to reduce and break cycles of line oppression and lift up the wisdom and leadership of the female nation. Since 2010, NCN has supported indigenous-based rites of passage for girls and has supported the development of a national network of culturally-based rites of passage circle keepers. In 2014, a group of nationally recognized Chicana, Latina, Indigenous women leaders gathered to establish the Comadres Network. The Comadres Network formally gathered in 2014 and has initiated a long-term commitment to women and girls. 
OUR PRINCIPLES- The Seven Principles of El Hombre Noble (The Honorable Man)
"Es un hombre que cumple con su palabra"
"Tiene un sentido de responsabilidad para su propio bienestar y para otros en su círculo"
Has a sense of responsibility for his own well-being and that of others in his circle
"Rechaza cualquier forma de abuso…físico, emocional, mental o espiritual… a sí mismo o a otras personas"
Rejects any form of abuse: physical, emotional, mental or spiritual…to himself or others
"Toma tiempo para reflexionar, rezar e incluir la ceremonia en su vida"
Takes time to reflect, pray, and include ceremony in his life
"Es sensitivo y comprensivo"
Is sensitive and understanding
"Es como un espejo, reflejando apoyo y claridad de uno a otro"
Is like a mirror, reflecting support and clarity to one another
"Vive estos valores honradamente y con amor"
Lives these values honestly, and with love
PHILOSOPHY- The National Compadres Network bases its work on the philosophy of La Cultura Cura (Transformational Healing)which proposes that:
"Within the collective Dignity Respect, Trust and Love of all people exists the wisdom, practices and resources for a healthy and harmonious wellbeing"
La Cultura Cura is a transformative health and healing philosophy that recognizes that within an individual's, families and community's authentic cultural values, traditions and indigenous practices exist the pathway to healthy development, restoration and life long well being.
This culturally based framework focuses on building on the natural opportunity factors and on what is healthy within an individual, family, community or culture. This indigenous based life view promotes what is right based on culturally grounded physical, emotional, mental and spiritual principles and practices.
This philosophy and process of transformational health and healing is illustrated in the following elements, as in the parts of a tree that root an individual, family and/or community. This interconnected movement is necessary to consider for integrated health, healing, growth, leadership development and individual, family and community P.R.I.D.E.
1. Purpose/Destino – Based on Individual, Family/Community Dignity (DIGNIDAD)
A basic premise of the individual, family/community dignity acknowledges that within the ancestral wisdom of a people are the teachings and medicine necessary for growth and healing. It is understood that the teachings and healing elements inevitably come from the people themselves. Therefore, in order for true healing, or rebalancing to be sustained, although the initial incentive may come from an outside person (organization, funding source), the ongoing motivation for individual, family/community growth and rebalancing must come from within the circle of those who desire or need growth or change.
2. Responsibility – Based on Respect (Respeto) for Family/Community Vision
Individuals must have a vision that reflects the potential of their true self in reference to their family and community. If a person only has a negative view of their self and their culture then they have no avenue for growth ,development or a healthy response-ability (ability to respond to life's struggles). A person's primary ethnicity is the root of that vision. It is necessary for the person to be guided to allow them to dream, reflect, and rediscover the life-enhancing values and gifts of his own indigenous culture. As part of this process it is necessary for them to know and understand their history in order to understand the process that created their present situation. By this process, and with the proper guidance, a boy,man, girl, woman will be able to separate the pain and imbalance that they and their people are experiencing from the essence and strength of the positives aspects of their culture. As part of their indigenous heritage, all people have traditions and customs for clarifying and rediscovering this vision of growth. These traditions and customs must be integrated and practiced in a balanced, consistent manner and guided by sanctioned elders that are committed to this process.
3. Interdependence – Based on Individual, Family/Community Trust (Confianza)
The strengthening of a community, and the families within it, directly, enhances the development and healing of its individuals. As individuals heal and grow, they re-integrate with the positive vision of the community. Families/communities, and the individuals within them, must develop interdependently. If one is missing, then disharmonious growth occurs, which leads to false hope and development. It is essential to know the difference between co-dependence, individualism, and indigenous cultural interdependence: (confianza). Through the redeveloped interconnectedness, (Transformatonal Healing and Development: Circulos) cycles of generational destruction and pain are interrupted and a commitment to generational healing and development is initiated, individual by individual, family by family, community by community.
4. Development – Circular Learning Based on Love (Carino) for Life
A love for life is the basis of a circular learning process. As times change, people must learn "new" ways (based on ancient teachings) to live in the world as individuals, families, and communities. There must be pride in one's ethnicity, respect for those of all roots and a process for balancing differences. The new ways must be both life-preserving and life-enhancing. In addition, organizations, institutions, systems and dominant societal communities must also learn to live in new ways being willing to change their philosophy, policies and procedures based on the needs of the evolving community. Elders from the community must gather in communion (Circulo) to give blessing and offer guidance to connected efforts focused on the love and healing of the next seven generations.
5. Enthusiasm – Living Life with a Sense of Hope (Spirituality/Esperanza)
Living life with a sense of spirit (spirituality) allows an individual, family/community to approach life with an element of enthusiasm (ganas). Instilling or re-instilling that sense of hope (spirituality) in an individual, family/community allows one to deal with the difficult, and sometimes overwhelming, day-to-day pressures with a sense of "greater spirit". As part of this development it is important for a community to engage in ongoing and consistent community affirming celebrations and events to acknowledge the emerging leaders and the positive efforts that are taking place in order that they may take root and grow. Making a concerted effort to lift up the voices and experiences of members of our community (LGBTQ2S) who have been historically silenced, made to feel invisible, or not recognized for who they authentically are and affirming their identities and made to feel a part of our familia.