Círculo De Hombres Retiro/ Men's Circle Retreat
In November of 1988, a group of Chicano, Latino, Native, and Raza men gathered for three days in Jolon, California, in a Círculo de Amistad y Hermanidad (Circle of Friendship and Brotherhood). The men gathered with the initial intent of addressing the many issues that they faced themselves, their families, and communities but also with the intent of clarifying their roles and responsibilities as men and individually and collectively searching for a way to rebalance the harmful experiences they sometimes brought to themselves, the women in their lives, the children, families, and communities. Through discussion, laughter, ceremony, and reflection, generations of feelings and spiritual energy were exchanged. The men present realized that the first step towards healing their relations, families, and communities started with them making a commitment to heal themselves and to commit to the journey of living as Hombres Nobles (Honorable Men)*.
These men reignited that ceremonial fire that has warmed and re-rooted thousands of men who have come together yearly since that initial gathering.
Thousands of men, grandfathers, fathers, sons, and grandsons have attended the yearly Hombres Retiros in Jolon, and from this commitment came to the "Círculos de Hombres" (Men's Circle Network) movement. Many participants from these gatherings have taken the teachings from the Círculos to their own communities across the country. Presently, círculos exist in over 50 cities across the nation and reach thousands of men and boys in a manner that allows them to nurture their positive purpose through connecting with other men and boys in their hometowns.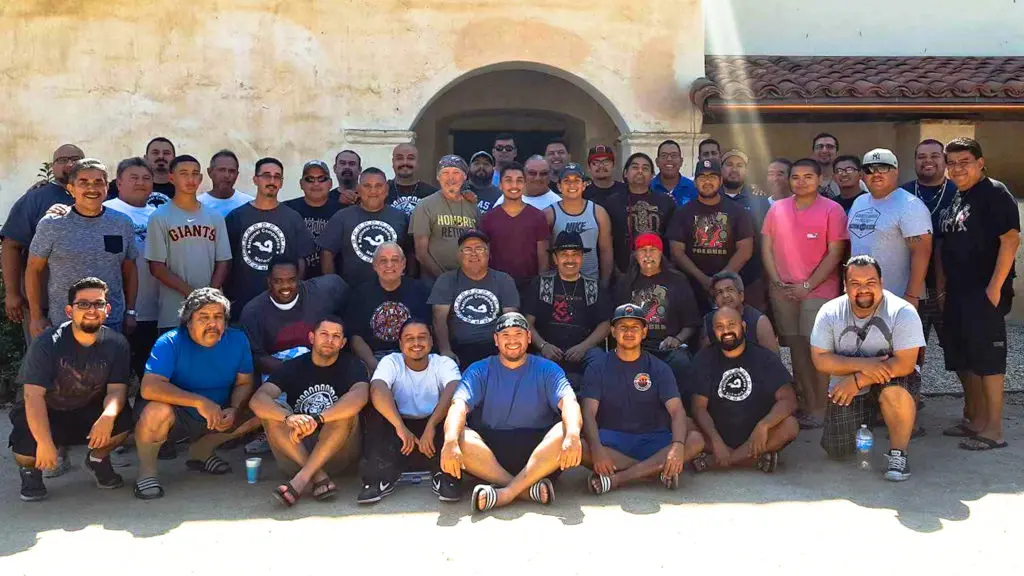 Community Kinship Circles
Disconnection is a major contributor to disease. The purpose of the Círculo (kinship circle) is to reconnect communities, one person, one family, and one town at a time. Happy and healthy families and communities demonstrate interdependence and work collectively as key to positive health, healing, and development. Creating this reconnection to a community's history, values, and traditions involves reawakening the ancient role of community elders. The elders would serve as wisdom keepers; the reinstatement of this role supports the creation of these circles for connecting, sharing, storytelling and healing. These Círculos would benefit a community in such environments as clinics, prisons, schools, probation camps, parks, etc. What's more, by providing motivational presentations and videos of elders telling their stories and collaborating with national groups, we develop the conduit to the younger generations.