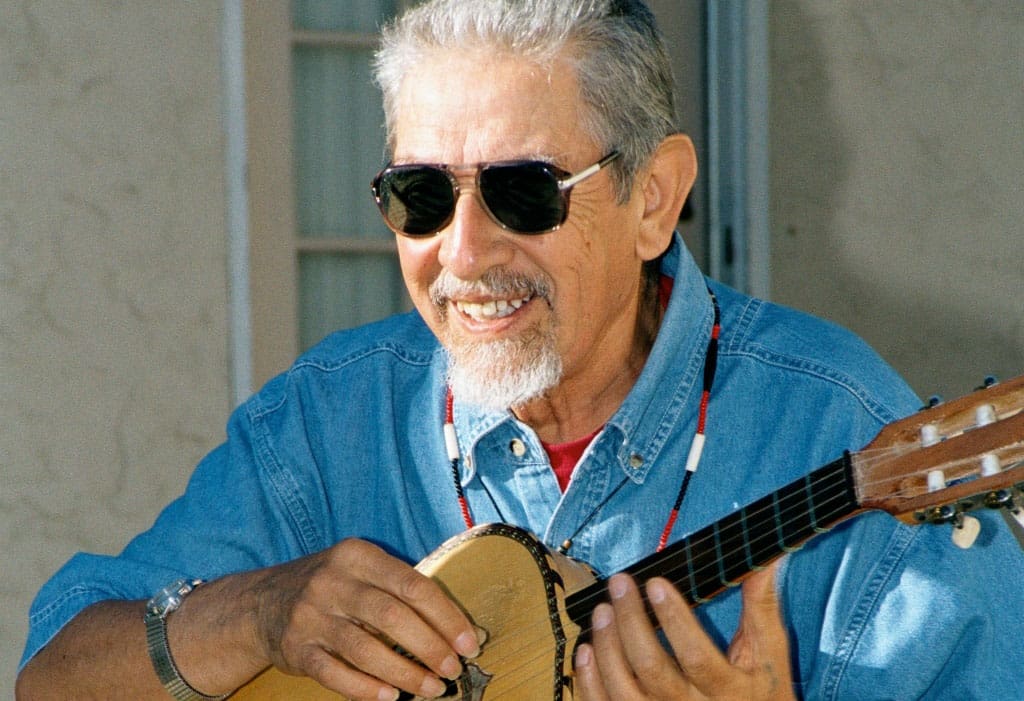 Flor y Canto José Montoya Memorial Scholarship
To honor Maestro Montoya's collective contributions, the National Compadres Network annually awards $500 academic scholarships to students (age 13 and above) currently enrolled and working to complete their education. Since 2015, the focus of the scholarship has been "Flor y Canto" which invites young artists to share their creativity. Flor y Canto (in xochitl in cuicatl) are the voices of our ancestors reminding us that the highest form of human expression is sharing our experience through living art, music and poetry.
For more information about the Flor y Canto José Montoya Memorial Scholarship, please contact Anthony Guillean at [email protected] or (213) 432-1741.
Maestro José Montoya was part of many circles, but for over 25-years, he was a part of El Círculo de Hombres. El Círculo brought healing and support to thousands of men through the reintegration of ceremony, carnalismo, and kinship. He served on the Board of Directors of the National Compadres Network as the voice of the elders since the organization's inception. His contributions to the healing of youth, men, families, and communities will continue through the teachings he so generously shared and entrusted to all of us.
Maestro José Montoya dedicated his life to acknowledging and lifting up the beauty and power of culture through art, poetry, music, activism, and spiritual ceremony. His life, from the mountains of New Mexico and the fields of California's Central Valley, to the halls of higher education influenced all his work. His ability to re-craft words, create songs, and beautifully illustrate what it meant to be Chicano will remain as an example for generations.
In 2016, three years after his passing, he was honored with an exhibit of his work at the UCLA Fowler Museum. Abundant Harvest honored his prolific work with nearly 2,000 drawings along with paintings, poems, sketchbooks, video footage, music, and other ephemera.  https://www.fowler.ucla.edu/exhibitions/montoya/
El Círculo by Maestro José Montoya (Copyright 2005)
It could not have been any other way
It could not have been any thing else.
It had to be the circle to heal hell.
We all came to it illing, ailing – unwashed.
And the survivors, in twenty years, were rewarded.
And we witnessed four generations
Receive the medicine — emanating, radiating From that focus – up down and the four
Directions- powerful!
Group one, the elders, aging, nursing blown Prostates and livers damaged, slipping and sliding – but Clean.
Group two, clean, but ravages of past abuse Taking toll yet remain stellar role models for Group three, the gang – 
bangers facing one more Strike now saved, Clean and agile, metamorphosing Jaguars, fire tenders and willow 
cutters and singer of lodge songs – saving generation four – now Coming to circle straight from middle school, 
Grandfather.
We couldn't all be saved but group three Impressed us all!
Earth water wind and fire came together for 'em, For us – for all.
Ho Ometeot!